Turmeric Varieties : | Turmeric Varieties | Famous varieties of Turmeric | Major varieties of Turmeric in India|
| Duration of Crop | Characteristic of some varieties of Turmeric |
Turmeric Varieties
Turmeric comes from the root of Curcuma longa, a green plant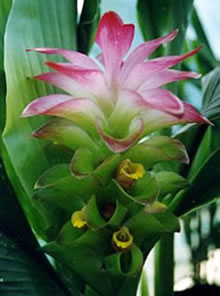 in the ginger family. Rhizome has a tough brown skin and bright orange flesh. Ground turmeric comes from fingers which extend from the root.
There are approximately 30 varieties have been recognized in the type of Curcuma in which turmeric belongs. Amalapuram, Armour, Dindigam, Erode, Krishna, Kodur, Vontimitra, P317, GL Purm I and II, RH2 and RH10 are some popular Indian varieties among them.
In India most of the turmeric used is of dried cured variety, the 'Erode' variety is the best and more popular. The 'Krishna' variety gives the highest yield of green turmeric.
Famous varieties of Turmeric
Local Haldi
China scented
Thodopuza
Red streaked
Alleppey

Major varieties of Turmeric in India
'Alleppey Finger' (Kerala)
'Erode and Salem turmeric' (Tamil Nadu),
'Rajapore' and 'Sangli turmeric' (Maharashtra)
'Nizamabad Bulb' (Andhra Pradesh)

In Tamilnadu, the important varieties cultivated are Erode local, BSR-1, PTS-10, Roma, Suguna, Sudarsana and Salem local. Among these varieties, 70-75% is occupied by the local varieties
Allepey Finger Turmeric, Rajapuri, Madras and Erode are some of important exported varieties. Turmeric exported in the processed form is dry turmeric, fresh turmeric, turmeric powder and oleoresin. Alleppey finger turmeric is known for its high content of curcumin - a yellow colouring substance. Its bright yellow colour has been preferred by spices importers in Europe and other continents. In Middle East, the UK, USA and Japan, some of the well-accepted varieties are: 'Alleppey Finger' and 'Erode turmeric', 'Rajapore' and 'Sangli turmeric' and 'Nizamabad Bulb'
India also exports turmeric in powder form and as oleoresin

Duration of Crop
Curcuma longa is the most important economically accounting for about 96% of the total area under turmeric and the remaining 4% is under C. aromatica grown in some small district of Andhra Pradesh and Tamilnadu.
The varieties are categorised into three groups based on the duration of the crop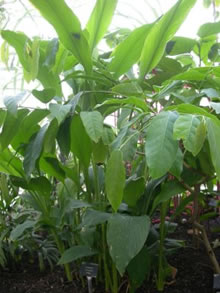 Long duration types (9 months) - Tekurpet, Duggirala, Armur and Mydukuru
Medium Duration types (8 months) - Kothapet, Krishna and Kesar
Short duration types (7 months) - Amalapuram and Dindigram
Duggirala, Kodur type, Tekurpet, Mydukuru, Sugantham, Alleppey, Kasturi and Kesar are some other commercially popular varieties. Duggirala type has larger rhizomes of good quality and is more suitable for heavy black soils.
Tekurpet's rhizomes have good colour and higher curing percentage.
Mydukuru type has a higher yield potential than Tekurpet but poorer in curcumin content.
Kasturi and Kesari types are fairly good in curcumin content.

Characteristic of some varieties of Turmeric
Some of the important high yielding varieties of Turmeric in India.

Andhra Pradesh
Amruthapani: Medium duration crop (8 months) highly resistant to leaf-spot but susceptible to leaf-blotch.
Armoor: Long duration crop (9 months), resistant to leaf-blotch: popular variety.
Duggirala: Long duration crop (9 months); tolerant to leaf-blotch; major regional variety.
Tekurpeta: Long duration crop (9 months); resistant to leaf-blotch, popular variety.
West Bengal and Assam
Pattant: Reportedly better colour and aroma of varieties grown in region.
Kerala
Alleppey: High colour variety; generally marketed as Allepey turmeric.
Wynad: Marketed as Alleppey turmeric.
Maharashtra
Rajapore, Karhadi
Waigon:Major regional variety.

Tamilnadu
Chinnanadan: Popular variety.
Perianadan: Major regional variety; generally marketed as Madras type.